Surgical Steel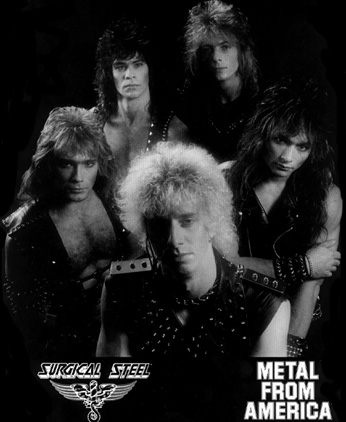 Back to the early 80's, when metal began to rule the charts and Jeff's hair had a LOT of hair spray.
Surgical Steel was a Phoenix band, fronted by Jeff Martin. Clearly patterned after Judas Priest, and Jeff's friend Rob Halford, Surgical Steel had it all....Spikes, leather, big hair and plenty of Final Net Superhold for everyone.
Thanks to David Barcai for providing the photos and some commentary. David was one of the roadies for Surgical Steel.
The band included:
Jeff Martin - Vocals

Jeff of course, left Surgical Steel and joined Racer X. As many of you know, Rob Halford and Jeff were friends, and Rob would show up to many shows and sing.

During "Officer Steel", Jeff would often dress as a cop, and bust the band for "drugs", finding Tylenol and Vitamins...throwing the baggies into crowd and stare with his mirror glasses.
Jim Keeler - Lead Guitar

Still lives in the area, at last update. Jim also has the distinction according to David, for appearing Jerry Springer. No clue what for.
Paul Kosanovich - Guitar

As David states "Paul couldn't play guitar without a smoke dangling from his lips. Tall, skinny and one bad ass singer, Paul could hit high's only dog's could hear!"
Mark Lehman - Bass

Good bass player, and nice guy.
Bob Milan - Drums

Jeff and Bob worked out a routine where they would both do a drum solo in tandem! The way they succeed in doing this is.... Bob's drum riser was about 5' high and a steel platform with a black tarp thrown over the sides. Jeff made a little riser underneath the large one so the small one could be rolled out from underneath, and Jeff would release the cymbal stands, they'd pop up, and he would proceed to kick some ass!
In 1985, Surgical Steel made it to the silver screen. Looking in the Arizona area for a metal band, Surgical Steel was picked to be the "big band" in the story about Leif Garrett's garage band making it big. The movie is called Thunder Alley, starring Leif Garrett, Clancy Brown and Jeff Martin (sorry..no link for Jeff to IMDB...and we'll see why).
The movie is hard to find...and considered a cult-classic...by whom...I have no idea. But it is hard to get.
Clip #1
Just Jeff's first speaking part. If you download the Surgical Steel concert clip..you can see this one as well.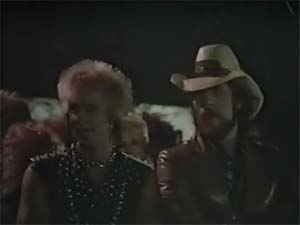 (1 meg)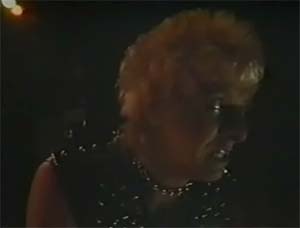 (4.5 megs)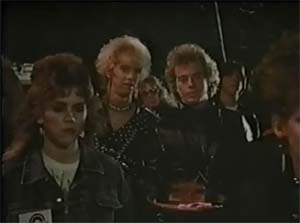 (1 meg)
I think you now know why Jeff isn't in the IMDB movie database! Thank you to Jeff, for being a good sport letting me put this up. When I told Jeff I had this stuff and I wanted to put it up....Jeff said "Ah...that's cool..I've embarrased myself worse than that." Uh...
Jeff....Let's hope there's not video of that.
Everyone has asked for music. Well, I shall provide!
Instructions: Click to Play or Right Click, File: Save As.
Track #1: Crank It Up
Track #2: To The Bitter End
Track #3: Moby Dick (not the Zep version)
Track #4: Tonight
Track #5: No Foolin' Around
Track #6: Smooth And Fast
(Featuring Rob Halford)
Track #7: Rivet Head