B7 tapped arpeggio with string skipping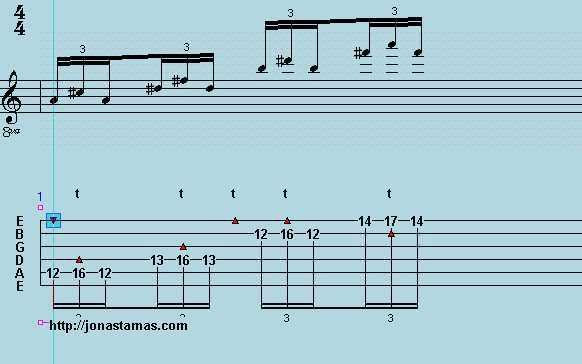 This time I show you an easy & quick way to play a dominant 7th arpeggio. Click here to download the bigger version of the tablature and the mp3:
http://www.4shared.com/file/146042115/1 ... pping.html
On the A string, use your left hand 1st finger on fret 12, while the right hand's index or middle finger plays fret 16 then pulls off back to fret 12..
Then play the same pattern on strings D, B, and high E, except for using the 2nd and 3rd finger of the right hand, respectively, on the D and the high E string.
In this example it is a B dominant 7th arpeggio, but of course you can play it on any part of the neck, or reorganize the pattern to get a major 7th arpeggio etc. Feel free to experiment!
I prefer using the middle finger when played tapped sequences unless of course it is a 3- or 4-finger version of tapping, but many players use their index finger so it is up to you what feels the best.
The tricky part is always the transition to one string to another. Try to avoid unwanted string noises by synchronizing your movement. Practice it very slow first, then you'll be able to bring it up to warp speeds.
Good luck, don't forget to visit
http://jonastamas.com
- and spread the word if you like the songs on my website.
Keep on rockin'