Petrucci-Satriani style guitar album on iTunes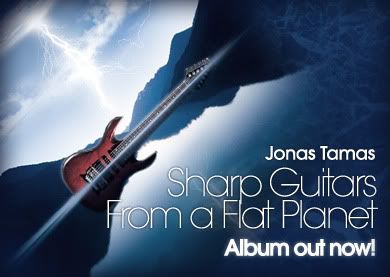 Jonas Tamas - Sharp Guitars From a Flat Planet
Album on iTunes - check the songs out:
http://itunes.apple.com/WebObjects/MZSt ... 8&s=143441
Melodic progressive metal guitar for fans of
Paul Gilbert, John Petrucci, Joe Satriani and Steve Vai
. Go to iTunes now and within a few minutes you can listen to the entire album.
Of course if you prefer a physical CD version, then you can get the album on CDBaby. You can download the mp3 version there too.
http://cdbaby.com/cd/tamasjonas
Everybody who buys or downloads the album on CDBaby is entitled to get the free bonus pack (bonus track and TABs).
The response has been great so far, if you scroll a bit down on the CDBaby page, you can check out all the reviews of the purchasers of the album.
All the best and keep the shred alive!
More info:
http://jonastamas.com
http://myspace.com/jonastamas