Stuck Mojo Raleigh Review (6/20/08)
Firefighters, Law Enforcers, and American Troops: all great examples of American Heroes, putting their lives on the line so that you might enjoy your own. Add one more group to that list: Stuck Mojo. Bands can die on stage, but you won't find that to be the case here! Stuck Mojo are a prime example of what great, proud Americans should be, and you don't even have to see their gun collections to figure that out. They will do all in their power to make sure you have a good time while you're around them, whether during the concert or simply for a few seconds shaking their hands after the show (which can easily become much longer, as they actually want to talk to you).
On this lazy Friday night in June, Stuck Mojo, along with British openers Vendetta and Seattle-based Hatefist, gave the standing crowd all they had. After a few local bands had played, Vendetta hopped on stage. They were overflowing with aggression, as the guitar player bounced from one side of the stage to the other, and the singer hopping down into the crowd and joined in the mosh pit that had developed during one of their songs. The same could be said of Hatefist, which displayed great musicianship while the guitarist and bassist jumped from lighting displays while keeping the tunes moving. These bands really put 100% into their music, and would have whether or not the crowd responded. It's nice to see that kind of commitment from an up and coming talent.
About fifteen after eleven, the five members of Mojo walked calmly onto the stage in a shroud of darkness and Pink Floyd musical ambience whilst the crowd cheered like mad. And just as calmly as they arrived, they all burst into the first song with united precision, completely pummeling our eardrums. It was like a lightswitch had been flipped...perhaps it's an effect of the stage lights, but their calm and casual demeanor quickly gave way to an intensity-filled room. Within the first few seconds of the song, guitarist Rich Ward had walked to the front of the stage and used the shoulder of a fan to prop his foot on as he unleashed riff after riff. Suffice to say, the fan was delighted.
Rich wasn't the only one on the ball that night. The entire band had come fully-loaded with enthusiasm and enjoyment to share with the crowd. New entrant, Steve Underwood, rocked the drums the entire night. This man is quite simply an amazing individual to watch. Flipping the drumsticks into the air one after another and continuing each hit right on time...it's just a pleasure to be able to see it. I definitely look forward to hearing what this man can do on the next studio album.
Two other gentlemen that had returned to please the crowd included bassist, Sean "Could B. Your Dad" Delson, and right-stage axeman, Mike Martin, both of whom did a phenomenal job. Sean, in case you are oblivious to the lower frequencies (and most of the mid-range), is an astounding bass player and never disappoints. Getting right to the front with the crowd, sticking the bass out like a rifle and firing continually with rapid low-end thumps, he reels in the crowd and is such a great asset to the team. Mike Martin, on the other hand, is a Treble Devil, helping Rich hold down the riffs with dual accuracy and taking some of the blistering solos while Rich gets down and dirty with the crowd.
Seriously, think for a moment: How many bands do you see where the guitar player gets down into the crowd and plays amidst them, while handing the mic around for the fans to do the backup vocals? Not many! And boy, it's so much fun to be in the middle of that!
But no, I haven't forgotten the last, but certainly not the shortest, member of the band. The new frontman, Lord Nelson, absolutely delivered to me what I needed to feel: Enthusiasm. While I had worried that he might not deliver the attitude that previous frontman, Bonz, had brought to the table, my worries disappeared from the moment the set started. From start to finish, this 6'5" giant stormed around the stage with that certain kind of smile that makes you think he knows something you don't. And what exactly are you to do when this smiling giant reaches out into the crowd, lifts you into the air and plants you on the stage? Whatever he wants! I can safely say though, that not only is it a deeply happy feeling standing on the stage with individuals you love and respect, but it is an enlivening moment as you scream those well-known lyrics into the mic right alongside a man who has such presence! And as more fans join you up there, singing along as you are, it really becomes more of a family gathering than a concert.
That's one thing about this band that really separates it from so many others in my mind. The band genuinely loves the people that are there. They don't just say it with a hollow regard for the truth. As Rich said to all the people there that night, "We know gas prices are high. We know food prices are high. And the simple fact that you would spend your hard earned money to see us means more to us than you can imagine! We just hope you leave feeling that we've made it worth your while."
There is but one simple fact about the show in Raleigh, and that is that Stuck Mojo dominated throughout their entire set and every single person had a great time. I have not experienced any energy quite like the one that is unleashed at a Mojo show in any of my other musical ventures. My friend and I drove five long hours to see these guys, myself a fan for years and he just getting dragged along. By the end of the night, I had a smile across my face and he was picking his jaw up off the floor. Mojo did not disappoint, and in fact, continues to impress me. No matter the day of the week or how many people they're playing for, they give you all they've got, and then they throw in the shirt off their backs and a shot at their mother. You'd do well to get your ass out there and see them, wherever they might be.
---
Some pics: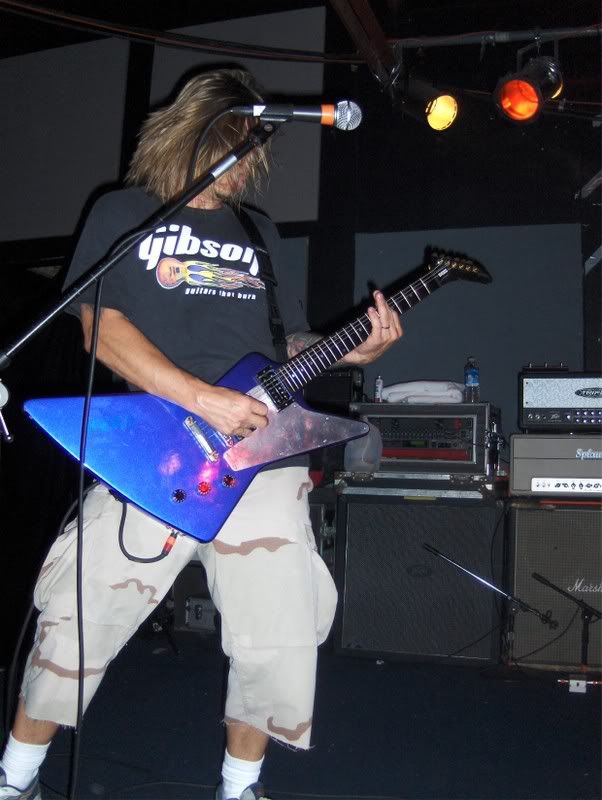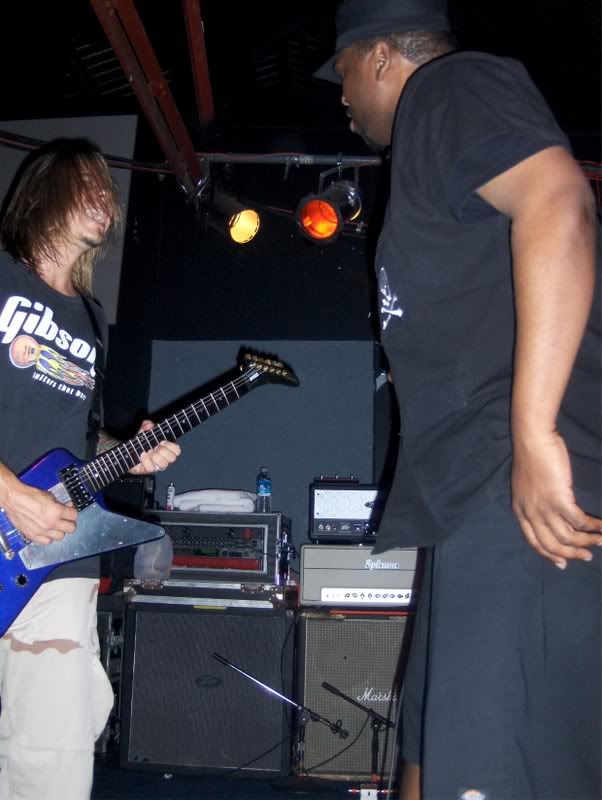 Sean: "Sir, what are you doing up here?"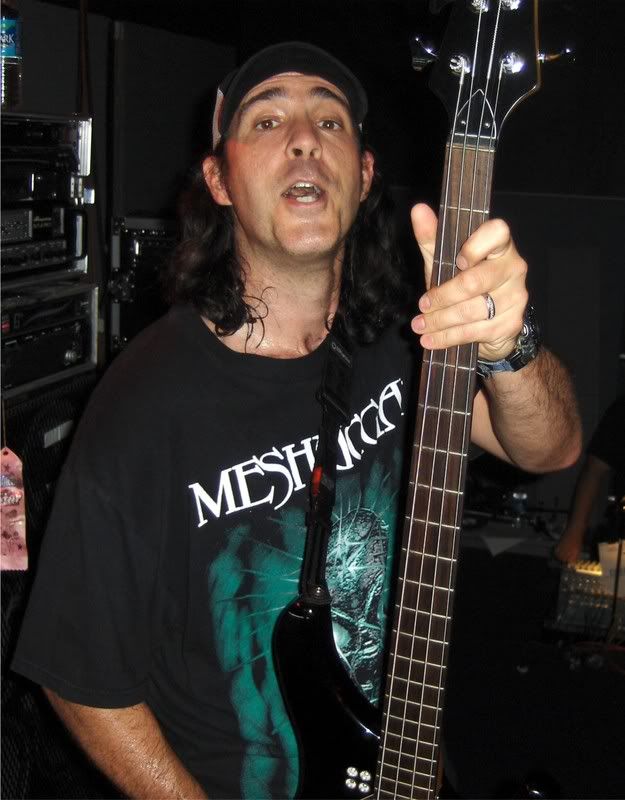 Delord and myself: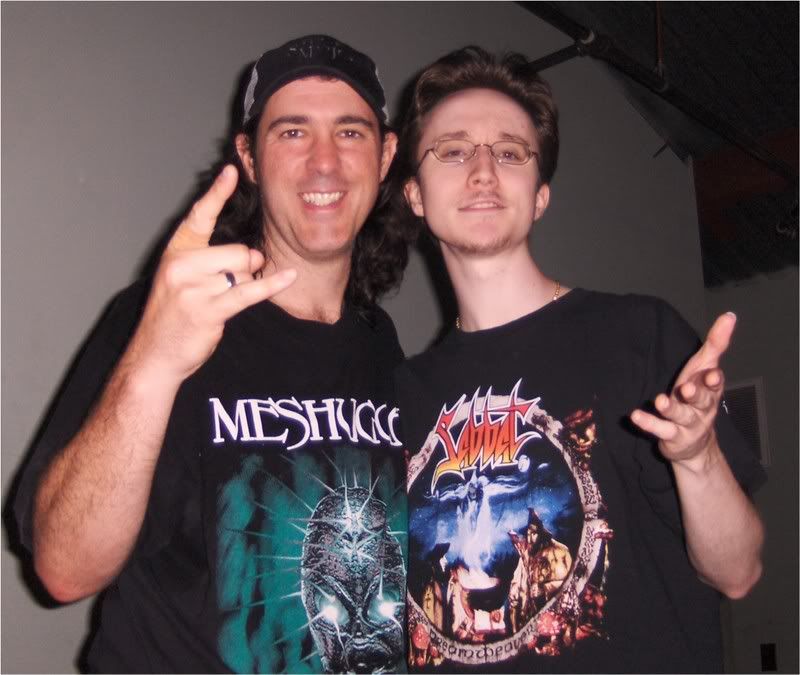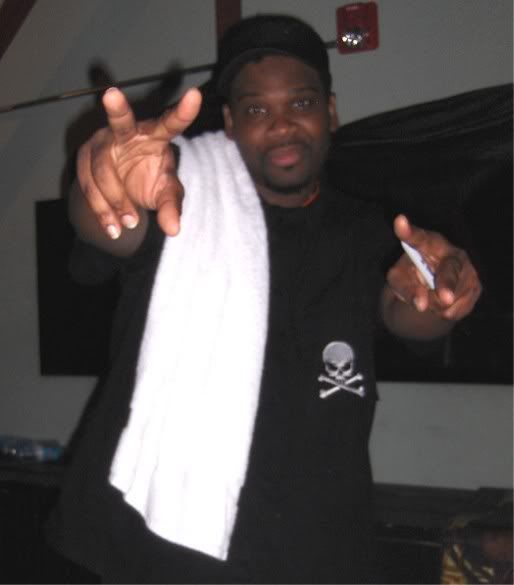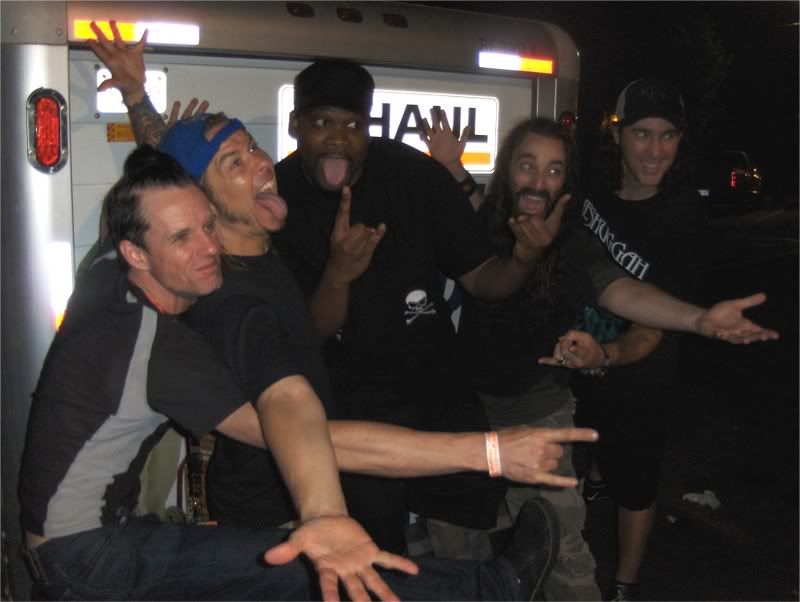 ---
Some vids:
Clip of "Twisted":
http://www.youtube.com/watch?v=xwmtkydu7mI
Clip of the "Southern Pride" jam:
http://www.youtube.com/watch?v=5gdwDJX9nZ8