Black Sheep
The band Black Sheep is probably unknown to most of you. Started in LA back in the Mid-80's. Black Sheep has been the home of an amazing array of players over the years. Slash (Guns N' Roses), Kyle Harrison (Trampled Underfoot-AKA Bachnroll on Racer X board), Mitch Perry (Steeler, Talas, MacAulley-Schenker Group) and Kurt James (Steeler, Dr. Master Mind), James Kottak currently with the Scorpions, Randy Catillo formerly Ozzy Osbourne, Motley Crue- RIP, Jeff Northrup formerly King Kobra, currently with XYZ, Randii Meers formerly Black Oak Arkansas(replaced Tommy Aldridge), Dweezil Zappa, Geezer Butler, currently plays with Kyle in Trampled Underfoot, Paul Carmen formerly and currently with Leather Wolf. The common thread through the band has been singer Willie Basse, who has been at the helm of the varions Black Sheep configurations. The original Black Sheep album was released by Enigma Records in 1985.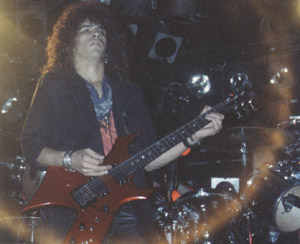 Slash...back when you could see his eyes.
The person not listed in that 1985 lineup was none other than Paul Gilbert. Paul played on the original Black Sheep album before joining the GIT. He was 17 years old.
Before posting anything, I asked Paul about the album.
"I can't remember which songs I played on! Kurt James played guitar on half of the record and he actually sounds better than me. For some reason I had a hair-brained scheme of recording my amp "direct" with no microphone. The result was my guitar sounded very unnatural and buzzy. Like an angry bee caught inside a paper towel tube.
Kurt used a mic, so he rocked." ...Paul

Thanks to Kyle (Bachnroll) and Willie, we have those Buzz ridden tracks right here. The tracks are in MP3 format from vinyl record, so some of you youngsters will hear pops from the needle. Hope you enjoy!
(Click on the track to hear the MP3. Right click, save as to copy to your hard drive)
Track 1: Stick To My Guns
Track 2: Love Warrior
Track 3: Eyes On Love
Track 4: Trouble In The Streets
Track 5: The Day Of The Kids